Boracay Travel Guide: Where, How, And What To Do! [Updated]
Boracay is a destination that needs no introduction. It's the beach capital of the Philippines, famous for its azure blue waters and endless stretches of powder white sandy beaches.  It flaunts a stunning picture postcard backdrop with a poetic-looking sunset, but it's also a destination where an exciting nightlife can thrive. An odd combo but it's exactly what Boracay has been leveraging on all these years.
Parties and beaches aside, there are quite a handful of experiences that are unique and thrilling about Boracay.
After the island reopened last year, some new regulations on drinking, eating and recreational activities on the beach have been put in place but there's still tons of excitement to be found for the fun-seeking beachgoer.
If you want a beach vacation that's more than just confining yourself to the idea of lazing around the shore with your pina colada – you're looking at the right beach destination.
How to get there
Getting to Boracay can be quite an adventure due to the absence of direct flights to the island. The nearest airport you could fly to is located in Caticlan, however, Kalibo airport, a more distant airport is favored due to its cheaper flights. It's just a 1-hour flight from Metro Manila.
From Kalibo airport, Caticlan Jetty Port is 2 hours by van or by bus; from Caticlan, it's just a few minutes. In Caticlan Jetty Port, you'll have to board a ferry heading to Cagban Port in Boracay island; the travel time is just around 10 to 15 minutes.
Alternatively, you can skip the flights and head to Batangas (2 hours from Manila) for an overnight ferry to Boracay. It's a more economic and straightforward route, best for people who are not in a rush or are just within Batangas.
Travel hack
For the more upscale tourists, if you plan to get to Boracay in style and without a sweat, there is now helicopter transport from Manila to the island. The cost, however, is extremely steep at ₱150,000 for a group of 3 people.
Where to stay
The long stretch of Boracay's pristine beaches extends into 3 separate districts or stations as they call it. Each station has its own set of attractions aside from a shoreline flaunting the majestic beauty of the world famous white beach and sunset.
Station 3
This is the first station from the Cagban port. It is the first port of call you'll chance upon arriving in Boracay. Station 3 will greet you with a local atmosphere, while not exactly free from tourists, this setting is as Boracay Islander as you could get. 
What you can find here
This is the least expensive district in Boracay. If you're looking for some of the cheapest deals in accommodation or affordable local restaurants you can dine in and markets to shop, Station 3 is the spot for that. Since it's more of a local islander hub rather than a tourist hotspot, it's one of the places in the island where you can get to enjoy the beach with fewer tourists.
The beach here is equally as pristine and beautiful as it is elsewhere in the island, and there is more space here at the beach for you than anywhere else because there are less crowd and more palm trees.
Staying here will give you easy access to the port, so going in and out of the island should be a breeze. A mall is also nearby, so are bars and restaurants for bustling nightlife, though not as plenty as it is in Station 2 and 1.  
Should you stay here?
It's the most affordable area in all three stations, making it a friendly spot for budget travelers.  Don't worry though, the rest of the island is just a stone's throw away from each other (15 to 20 minutes walk), so you wouldn't have to worry about getting left out from all the happenings and attractions in Boracay. 
Station 2
It's the center for all things upbeat and fun in Boracay. Station 2 is the most crowded station on the island and is the spot for all everything priced at midrange.
What you can find here
It's basically the hotspot for all the island fun, so expect to see everything you are here for at Station 2. It's a more tourist-saturated area so expect prices to be a little steep here.
From accommodations, restaurants, to malls and nightlife, Station 2 should is easily the go-to place in Boracay.
Station 2 may be saturated with tourists, but the beach isn't as crowded. Since this is where all the bars and restaurants with a scenic view of the beach are located, the crowds are here mainly to savor their food and the view instead of sunbathing and swimming.
Should you stay here?
If you want to be at the heart of where all the action is, you should stay at Station 2. Everything is already within arms' reach if you're staying here, so there is no need for you to stray far to the other stations unless you just want to explore the island. With a little compromise in your budget, you should be able to enjoy your stay at Station 2 better.
Station 1
As far as the hierarchy goes, this station sits on top of the other two. It's the hub where luxury resorts and hotels are located, and so are bars and restaurants. If you can afford to have an exorbitant beach vacation experience, Station 1 is the place to stay.
What you can find here
It's all about comfort at Station 1. While this station also has its own share of midrange restaurants, bars, and markets, it's the upscale ones which you can't find anywhere else which defines this high-end tourist hub. For example, the five-star accommodations here offer more exclusive excursions like private yacht sailing.
There are still a good number of restaurants and bars in this area, which are fairly affordable. But if you plan to check out these exclusive establishments, perhaps reserve one for a party with your favorite people.
Should you stay here?
Station 1 has it all. It has more than enough comfort for one to smother on while on a vacay. If you're the type who could afford a luxury or you've prepared enough budget to experience the luxuries enjoyed by celebrities as promoted on a lifestyle cable channel, you could never go wrong with Station 1.
5% Cashback for all dining spends.
Low minimum monthly income requirement.
Things to do
Boracay offers a wide range of water-based excursions for everyone for all types of budget.  There is a cool world of adventure waiting for you out there. Diving into a fun time and hit your favorite beach in the country with your favorite people may be the safest thing to do in Boracay, but you can spice it up further with these excursions which you can book via Klook.
1. Helmet diving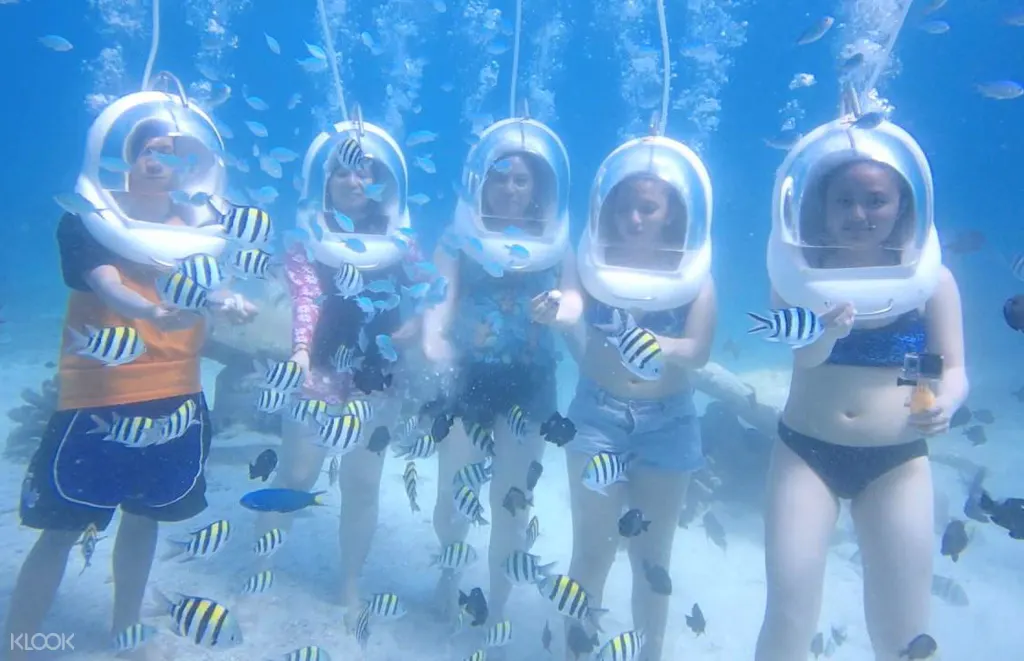 Go on an amazing walk underwater with Boracay Helmet Dive experience. As the name suggests, you'll be donning a helmet to keep you breathing as you set foot on the ocean floor. It can be a daunting experience for some, but it's a unique water activity that you don't get to do just anywhere else.
Price per person
You can experience this adrenaline pumping excursion for ₱670 per person via Klook.
2. Paraw sailing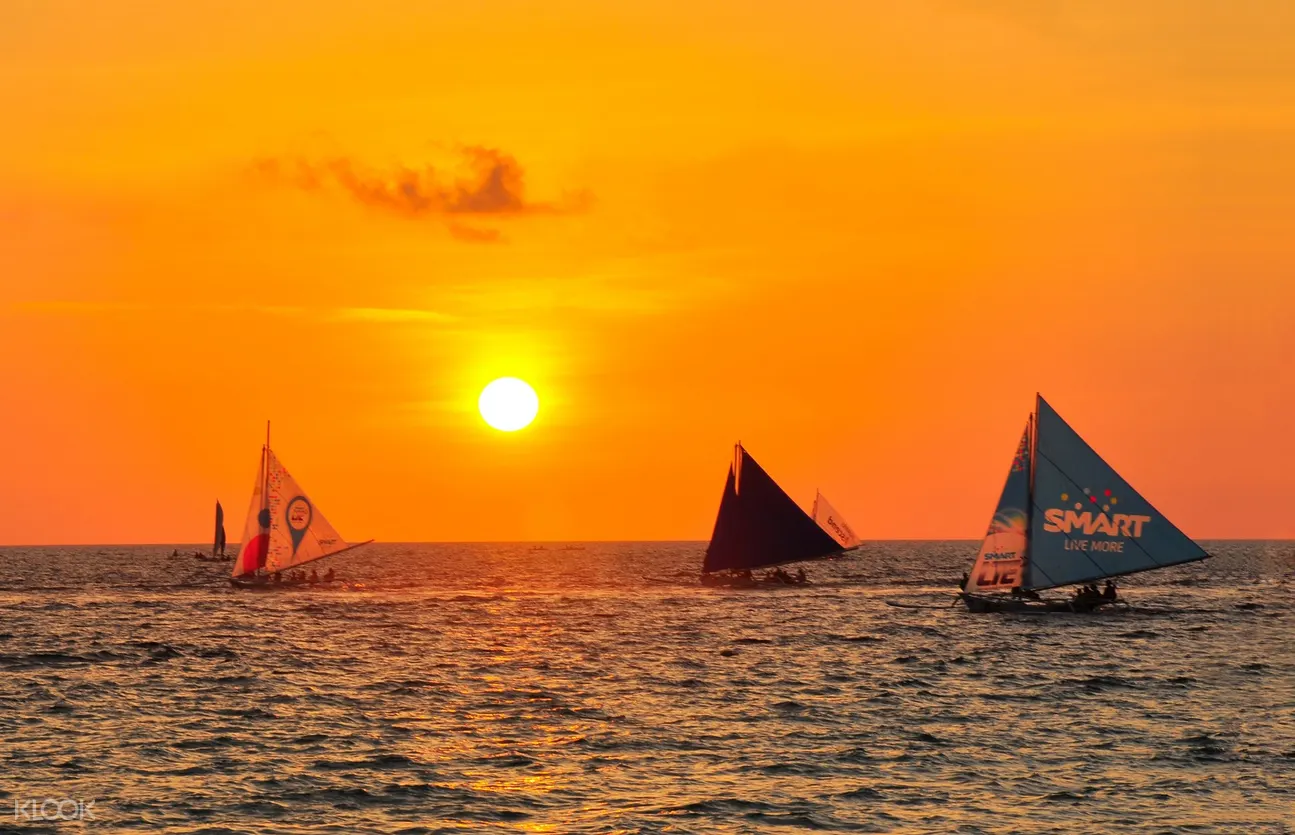 A paraw is a small traditional boat with two outriggers commonly used for water activities in the Philippines.  The boat itself is majestic enough to deserve admiration. The experience is truly immersive as it gets you right into the picturesque surroundings that Boracay is renowned, to enjoy the view while you glide through the crystal clear water.
10 people can hitch into a paraw, so there's more than enough room to sail along with your friends and share your Boracay adventure!
Price per person
Glide your way to the most scenic views in the Island for only ₱670 per person via Klook. 
3. Jet skiing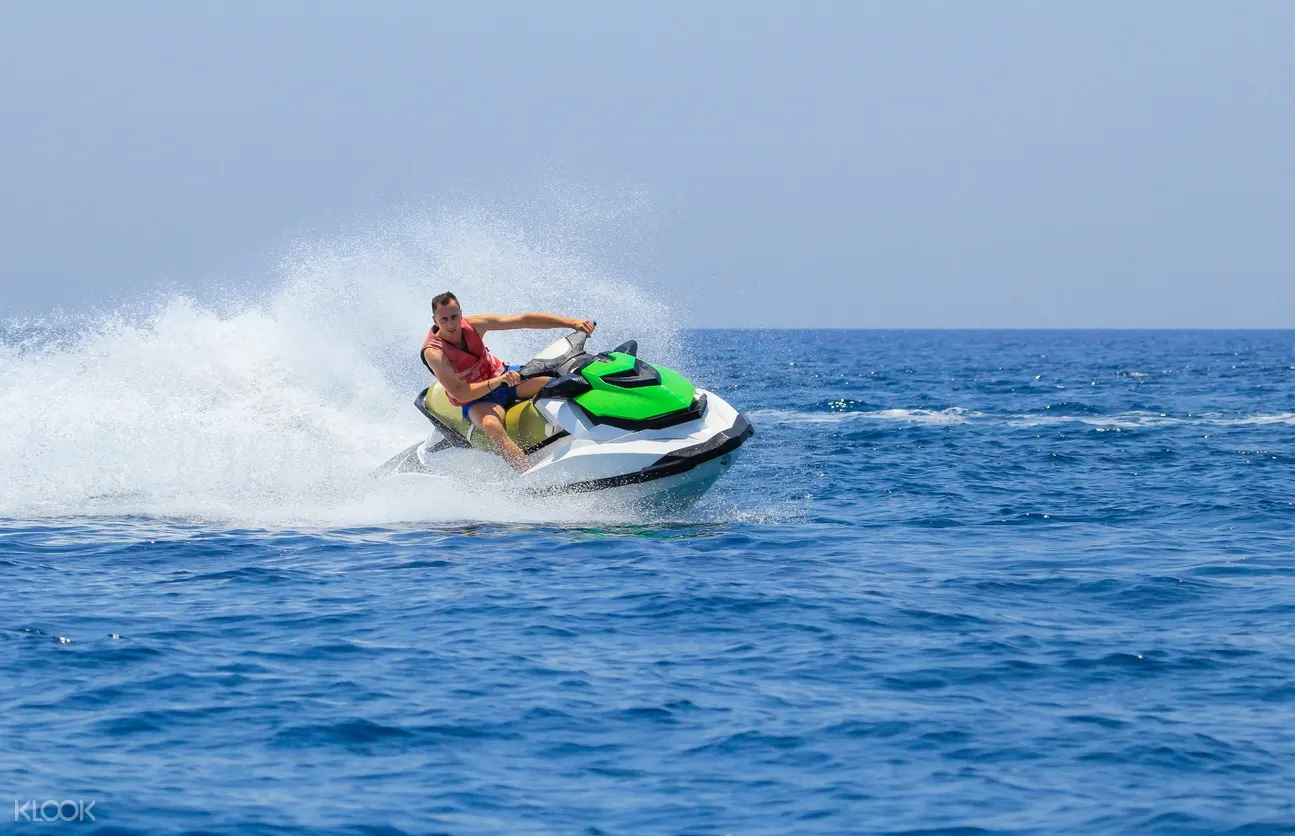 If you're the type who want the rush of sea air to feel excited and alive, this activity is for you. Or, if being underwater is just not your thing, spend your summer above the waves then! Drift through the stretch of Boracay and enjoy the scenic view! A qualified local English-speaking instructor will be guiding you, so you'll be safe while experiencing a breathtaking and incredible thrill.
Experience the rush for fifteen minutes, thirty minutes, depending on your choice. The prices are as follows:
| | |
| --- | --- |
| 15 minutes | ₱2,200 via Klook |
| 30 minutes | ₱3,800 via Klook |
4. Point cliff diving at Ariel's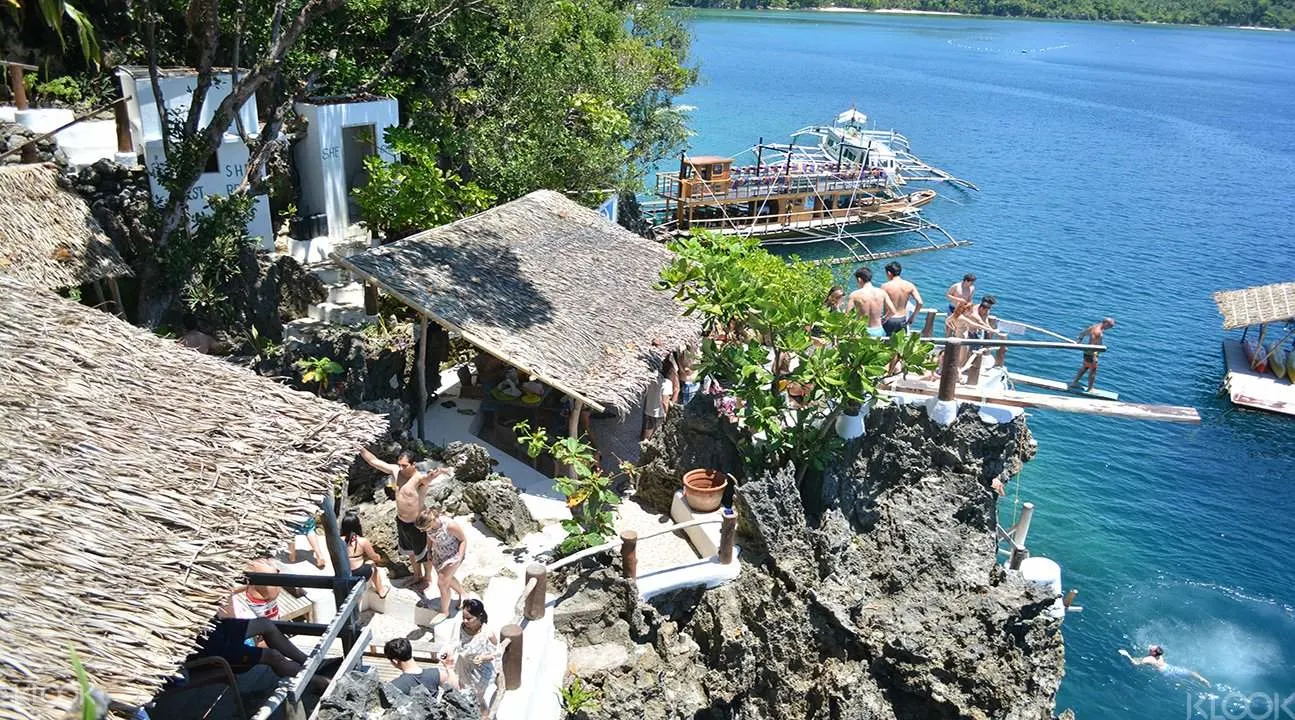 Take a leap of faith and plunge into the beautiful waters of Boracay at one of the world's top cliff diving destinations. Located on the edge of a fishing village, Ariel's Point boasts lush tropical forests, clear turquoise waters, abundant marine life, and volcanic rock formations.
Booking this excursion will not just grant you access to the cliff to brave on, but also loads of other activities and perks such as the following:
Boat cruise ride to and from Ariel's Point

Unlimited beverages (including beer and mixed drinks)

BBQ buffet lunch

Single or tandem kayaks

Snorkels, masks, and life jackets

Stand up paddle boards

Souvenir bracelet

Constant lifeguard surveillance
This activity isn't for the faint of heart though, and it's meant to be taken literally. So, be cautious before saying yes to this activity! Safety should always come first.
Price per person
You can take the plunge for only ₱2,800 per person.
5. Helicopter tour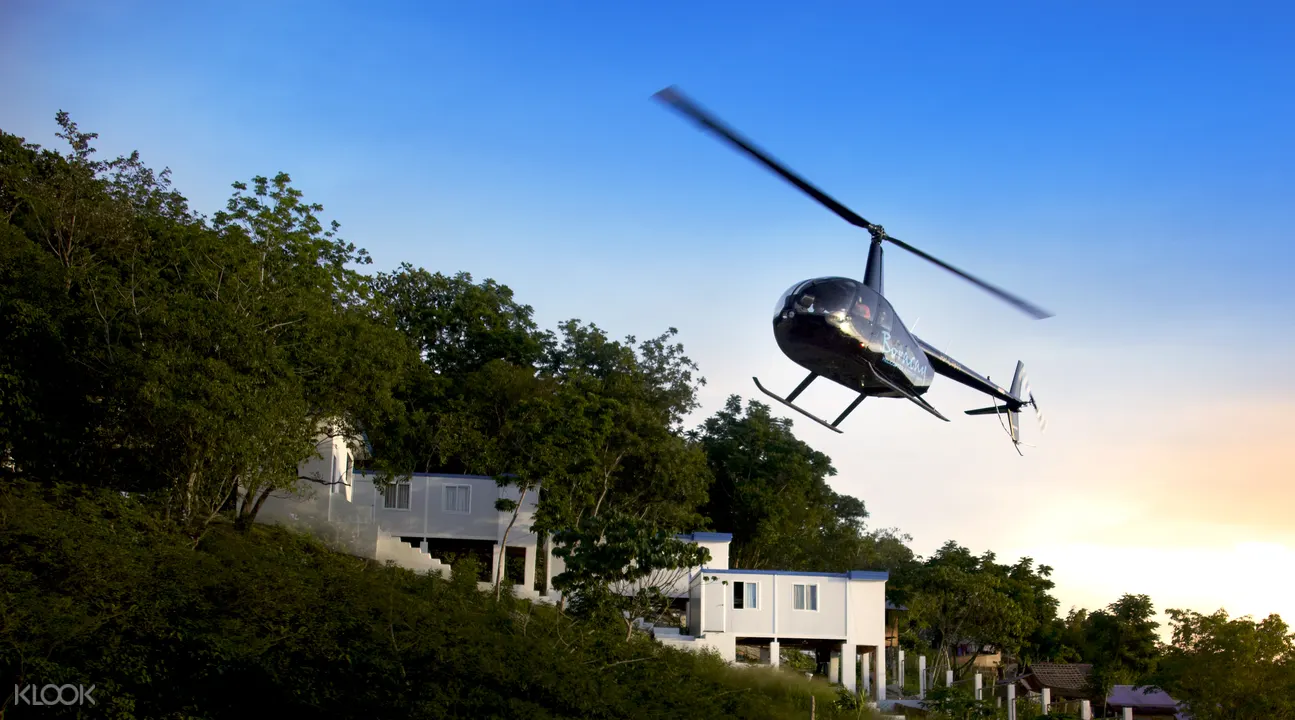 For an Island destination such as Boracay, island hopping with speedboats has already become a norm although new regulations have been enforced to limit polluting activities, including activities that involve heavy fuel usage.
If you want to experience a one-of-a-kind island hopping experience, you now have the choice to fly your way to the islands via a helicopter tour. It offers a different perspective to look at Boracay which is truly memorable.
You can hop on the experience in groups, and rates are as follows:
Beach tour (group of 2)
10 minute helicopter tour around White Beach
₱5,985 via Klook
Beach tour (group of 3)
10 minute helicopter tour around White Beach
₱5,400 via Klook
Island tour (group of 2)
Get to see the Tambisaan Reef, Bulabog Beach, Puka Beach, Diniwid Beach, and White Beach [15 minutes tours]
₱9,350 via Klook
Island tour (group of 3)
Get to see the Tambisaan Reef, Bulabog Beach, Puka Beach, Diniwid Beach, and White Beach[15 minutes tours]
₱7,100 via Klook
VIP tour (group of 2)
Get to see various islands in Boracay plus Carabao Island and Crocodile Island [20 minutes exclusive tour]
₱10,995 via Klook
VIP tour (group of 3)
[20 minutes exclusive tour]
₱8,700 via Klook
These packages include the following
See various islands in Boracay plus Carabao Island and Crocodile Island.

10-20 minute exclusive helicopter tour (depending on the package).
6. Scuba diving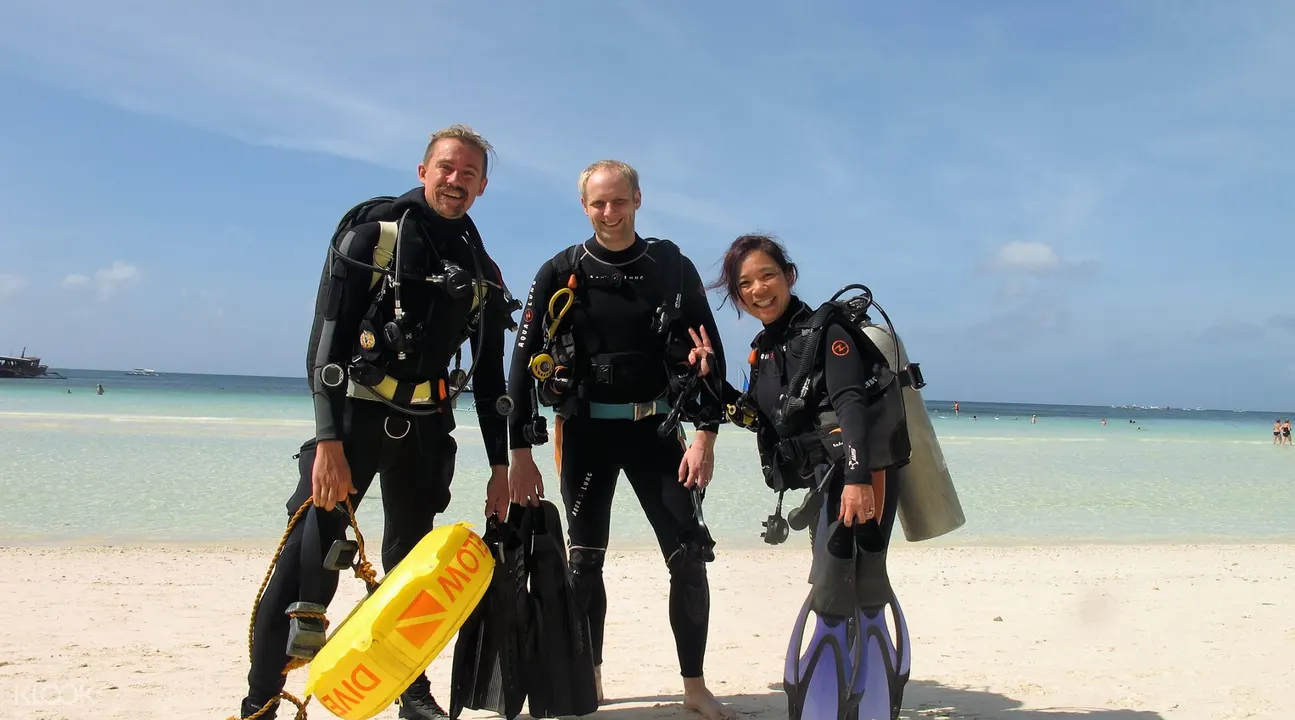 Boracay is not only the home to some of the most beautiful beaches in the Philippines, but it also houses some of the best scuba diving spots in the country. Get a glimpse of the rich marine life thriving under crystal clear waters of Boracay, and literally immerse in this mesmerizing experience.
The rates are as follows:
| | |
| --- | --- |
| | Rate per person |
| Group of 1 | ₱3,500 |
| Group of 2 to 8 | ₱3,400 |
The following are already included in these packages:
1 dive for each participant

Professional PADI instructor

Diving equipment and gear

Water

Towel
7. Parasailing
Another way of witnessing the beauty of the island from above is by parasailing. Enjoy the activity solo or with a friend and experience a different way of enjoying Boracay! 
For every 15 minute ride the rates are as follows:
| | |
| --- | --- |
| Tandem | ₱1,800 via Klook |
| Solo | ₱2,500 via Klook |
8. Banana Boat, UFO and Hurricane Activity
Boracay is also a place for many water sports activities. Rip through waves as your inflatable ride of choice is being pulled by a speedboat and have the best time of your life with your family and friends. Don't worry, you're in good hands as you're gonna be guided by expert safety personnel during your ride. 
Rates are as follows:
| | |
| --- | --- |
| Tandem | ₱1,800 via Klook |
| Solo | ₱2,500 via Klook |
Summer is the best excuse to be out and about and living it up. Boracay offers a treasure trove of fun activities that will help you put your holiday to good use and make hay while the sun shines!
Boracay may just be one of the islands that make up the Philipines, but it offers a sizable amount of unique and breathtaking experience which you won't get anywhere else – any day of the year!
This article was first published in April 2019 and has been updated for freshness, accuracy, and comprehensiveness.
Leave your comment