Cebu Travel Guide: Where, How, And What To Do
Cebu is a province of the Philippines located in the Central Visayas (Region VII) region. It consists of the main island and 167 surrounding islands and islets. Despite being far from the capital, Cebu – the queen city of the south holds the top spot as the most visited cities in the Philippines. 
It's a tiny island found in the middle of the country and it houses various attractions, from Spanish-colonial heritage sites, adrenaline-pumping skyscraper adventure, to beaches and diving spots where you get up close and personal with whale sharks. Other than that, it's also a famed destination for Lechon!
How to get there
There is an abundance of flights going in and out of Cebu, domestically and internationally. You can fly directly to and from Mactan International Airport with most of the airlines operating in the Philippines, especially PAL, Cebu Pacific, and AirAsia. International airlines such as Cathay Pacific, Jin Air, Jeju Air, Singapore Airlines and Emirates provide flights from cities all around the world directly to Cebu.
Free destinations to visit
Cebu isn't the number 1 destination in the Philippines for nothing. There's plenty of places to see and excursions to experience here than anywhere else.  
Here is a quick rundown of the things-to-do and sights to see in Cebul!
Basilica Minore del Santo Niño de Cebu
This is home to the famous Child Jesus (Santo Niño). The Basilica Minore del Santo Santo Niño de Cebu holds a remarkable value to Catholics as it was historically a baptismal gift from Ferdinand Magellan to Queen Juana and Rajah Humabon – the first two locals in the island who were baptized.
Locals and tourists alike drop by in a steady stream to the Basilica Minor del Santo  Niño de Cebu to say a prayer or two. This Church is most significant during the Sinulog Festival which falls on the third Sunday every year, to honor Santo Niño. 
Location
Pilgrim's Center, Osmeña Blvd, Cebu City
Magellan's Cross
This is a kiosk-like structure that houses the famous Magellan's Cross. It's just a few hundred meters away from the Basilica Minor del Santo Niño de Cebu and is important as a historical marker in Cebu City which memorializes the birth of Christianity of the Philippines and the first-ever colonizer to step foot in the country – Ferdinand Magellan. 
The original cross was encased in tingalo wood to preserve and protect it better. However, rumor has it that the original cross was destroyed after the fall of Magellan. 
Fort San Pedro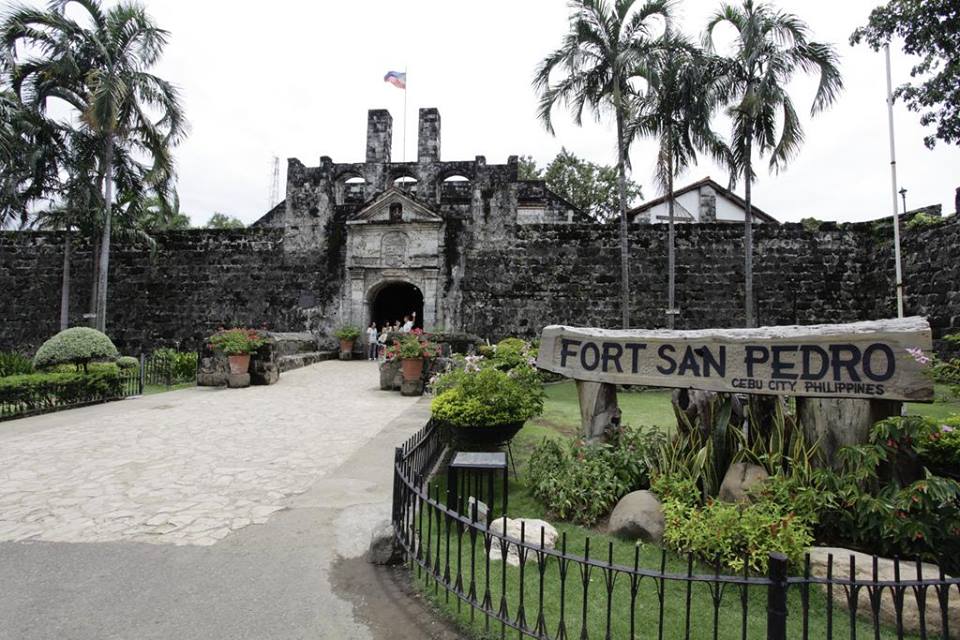 A triangular-shaped bastion fort that was once a military defense structure during the Spanish era. This is the oldest and the smallest fort in the country which plays a vital role in the history of Cebu. It represents the legacies of the Spanish government and their historical artifacts that are well preserved here.  Today, this is now a leisure park that locals and tourists can both immerse in.
Location
A. Pigafetta Street, Cebu City
Casa Gorordo Museum
Built during the mid-19th century, this was originally a private home to Cebu's most prominent family – the Gorordos. Later on, it became a residence to archbishops of Cebu. Today, it's a museum that houses antique furniture, coral stone blocks, and pure Philippine hardwood.  This museum will take you on a trip down memory lane, specifically to the Spanish era through its period costumes, paintings, decorative art, and more.
Location
35 Eduardo Aboitiz St, Cebu City
Mactan Shrine
Its also known as the Magellan Shrine. This was erected to serve as a memorial tower to honor the Portuguese explorer Ferdinand Magellan. It was built in 1866 at the spot where Magellan was killed in 1521, during his battle with Lapu-Lapu at Mactan. Here you will also find the statue of Lapu-Lapu, commemorating how he defeated Magellan and symbolizing the first successful resistance against the Spanish colonizer. 
Simala Shrine
One of the most well-known religious structures in the Philippines. With thousands of devotees visiting the shrine everyday, it's easily one of the most heavily trafficked destinations in Cebu, not just as a tourist attraction but also as a place of worship. 
The Simala Church was built by Marian Monks from Pampanga due to several miraculous events that occurred which includes the shedding of tears of Mama Mary. This is why devotees and believers  travel to Simala shrine because they believe that they will be healed by praying to Mama Mary in the shrine 
Because of its majestic castle-like aesthetics, even locals and tourists with different religious beliefs are drawn to this shrine.
Cebu Taoist Temple
A landmark that was built to preserve the teachings of Lao-Tse, the Chinese Philosopher. While it wasn't built for the purpose of tourism, its artistic appeal attracted tourists and locals alike, thus it eventually became a famous site to visit for tourists. Aside from that, it boasts an overlooking view of the city from its spacious balcony, making it all the more an appealing destination to visit. 
The entrance of the temple is reminiscent of the Great Wall of China and it houses two temples – the Phu Sian Temple and the Main Temple. The temples welcome even non-worshippers. The compound also houses a chapel, souvenir shop, a library, and a wishing well. 
Temple of Leah
Dubbed Cebu's version of India's Taj Mahal, the Temple of Leah has been attracting foreign and local tourists for its Greek-inspired architectural shrine. Unlike India's Taj Mahal, which is a mausoleum, the Temple of Leah serves as home to the treasures and memorabilia of the late Leah Albino-Adarna. 
Her husband, Teodorico Soriano Adarna, reportedly spent 80 million Philippine pesos to put up this temple as a symbol of his undying love for her. Located on top of a hill in Busay in Cebu City, the area provides travelers a scenic view from the top.
Location
Cebu Transcentral Hwy, Cebu City, Cebu.
Directions: From downtown Cebu City, ride a jeepney to the site (fare is no more than ₱20 per person) or motorcycle (₱150 good for 2 persons).
Entrance fee to the temple is ₱100 per person.
Tops Lookout
A relaxing spot situated 600 meters above Cebu City, it is one of the few spots in Cebu where you can get a good panoramic glimpse of the city's skyline. Tops Lookout is best visited at sunset, for that picturesque dusk view of the Mactan Bridge and its neighboring islands. Other than the view, cafes and picnic areas are also available for visitors who'd love to spend more time here. 
The breeze can get quite chilly at night at Top Lookout, so better bring a sweater or jacket with you!
Location
Cebu Tops Rd, Cebu City, Cebu
Excursions to experience
The attractions in Cebu don't just end with the remnants of the Spanish era, there are also excursions that can well take you up dangling in the city's tallest skyscraper or go diving under pristine Cebu waters! 
Osmena Peak
The highest peak on the island of Cebu, located at the municipality of Dalaguete. It's the tallest of the hills in the Mantalungon Mountain ranges which is similar to the Chocolate Hills in Bohol. Upon reaching the peak, visitors will be greeted by the 360-degree view of Southern Cebu and its neighboring province, Negros Oriental. 
This is a trekking spot, so getting here won't be as easy as taking a cab or even a habal-habal. And to make the best out of your Osmena Peak experience, make sure to visit around March to May which is the country's dry season to be able to see what the peak offers without the high chances of rain and clouds covering the majestic view.
Location
Mantalongon – Lugsangan Rd, Badian, Cebu
How to get here
Go to the South Bus Terminal in Cebu City. 

Take a bus going to Oslob or Bato, and drop off at the Dalaguete junction. Travel time is  2.5 – 3 hours.

From there hire a motorcycle (habal-habal) and go to the wet market in Mantalongon. Usual fare would be around ₱200 per motorcycle which can accommodate up to 2 passengers.

From the wet market, you can either trek to the peak for about 2 hours or take another habal-habal to the peak. 
Sky Experience Adventure
An adrenaline-pumping adventure in the theme park on top of Crown Regency Hotel and Towers. Experience a sky adventure in a theme park on top of Crown Regency Hotel and Towers. Here, you'll have the chance to try different kinds of extreme activities such as the Skywalk Extreme, which lets you walk around the edge of the building while wearing an overhead safety harness. Or, challenge yourself and ride on their Edge Coaster—the first and only amusement ride of its kind in the world. If you have a fear of heights and want a different kind of entertainment, you can instead explore their 6D theater or blacklight mini-golf.
Location
Tower 1, Crown Regency Hotel and Towers, Fuente Towers, Fuente Osmeña Blvd., Cebu City
How much does it cost?

₱525 per person via Klook
Kawasan Falls
A three-stage waterfall that sits at the foot of Mantalungon Mountain Range where visitors can swim in cold, turquoise waters. Canyoneering is also one of the activities that you can do here if you're up for some adrenaline-pumping water adventure. 
How to get here?
Take a bus to Badian from Cebu City about 3 hours. Once in Badian, there are signs pointing to the Kawasan falls which would take about a 15-30 minute hike. Once in Badian, there are signs pointing to the Kawasan falls. Alternatively, you can book guided services being offered in the vicinity.
How much does it cost?
Entrance fee is ₱45 for foreigners and ₱20 for locals.
For the full Badian canyoneering tour it would cost ₱1500 or $30 per person which you can book using the government tourism portal.
Oslob Whale Shark Watching
One of the things that you must not miss when you're in Cebu is Oslob, especially the chance to get up close and personal with their whale sharks. Don't worry, it's completely safe and they're really human-friendly. 
How to get here?
You can get here by land from Cebu. If you're a tourist, most likely you'll have to stick to the buses for transportation. Take the Ceres bus in South Bus Terminal in Cebu which goes to Bato via Liloan, and drop off at Brgy Tan-awan in Oslob. The entrance to the Whale Shark diving spot is just along the highway.
If you have a list of activities for the day, it is highly suggested to make this as the first on your list as the whale watching activity is only available from 6am to 12 noon with no reservations (first-come-first-served basis).
How much does it cost?
Whale watching (in the boat with no swimming)

₱500  for Filipinos

₱1000 for foreigners

Whale watching (snorkeling with equipment)

₱1000 for Filipinos

₱1,500 for foreigners

Scuba diving with whale sharks

₱4000 for Filipinos

₱5000 for foreigners
Moalboal Island Hopping
A visit to the tropics would be incomplete without the island hopping experience. When in Cebu, one of the must-try activities would be the Moalboal island hopping which allows you to see a few of the breathtaking islands the country has to offer as well as snorkeling in the clean waters rich in marine life. 
How much does it cost?

Environmental Fee: ₱100 per person
Private Boat Rental: ₱2500 for a whole boat or you can join other tourists in the same boat for around ₱300-500 per person.
Bird Watching in Olango Wildlife Sanctuary
The Olango island group is just about 4.8 km (3 miles) east of Cebu and is only accessible by speedboat. This 900 hectare sanctuary is home to at least 97 species of migratory birds as well permanent residents and is one of the best spots for bird watchers. So if this activity is for you, this is definitely something you shouldn't miss on your trip to Cebu!
How much does it cost?
Entrance fee to the sanctuary would be around ₱20-30 for Filipinos and ₱100 for foreigners.
Additional tip
To make the most out of your bird watching experience, visit the sanctuary between September to May and at least 2 hours before the peak of the high tide so you'll be able to see the largest concentration of different kinds of birds in the small areas within the sanctuary.
Cebu is a destination where concrete jungle,  remnants of the Spanish colonial era, and  tropical islands collide. It's one of the very few places in the Philippines that rolls a variety of wonders into a single destination. With the vast number and exhilirating experiences that it offers, it isn't a wonder why it holds the number 1 spot in Philippine tourism.
If you're on the look out for a local destination this the upcoming summer season, definitely the Queen City of the South will not disappoint!
Leave your comment