Citi Grab Credit Card: Will This Card Actually Save You Money?
If you're an avid Grab user for all your day-to-day necessities, from getting around the city to your food and grocery shopping, there's finally a credit card that can make that a financially rewarding experience, presenting – the Citi Grab Credit Card.
This co-branded credit card between Citibank and Grab offers a reward-rich program with Grab users in mind. While its perks aren't just limited to Grab services, you'll be in a much better position to fully maximize its features and benefits to save more money if you frequent Grab. 
To give you a much better understanding of the Citi Grab Credit Card, we scrutinize this credit card for you in this in-depth review.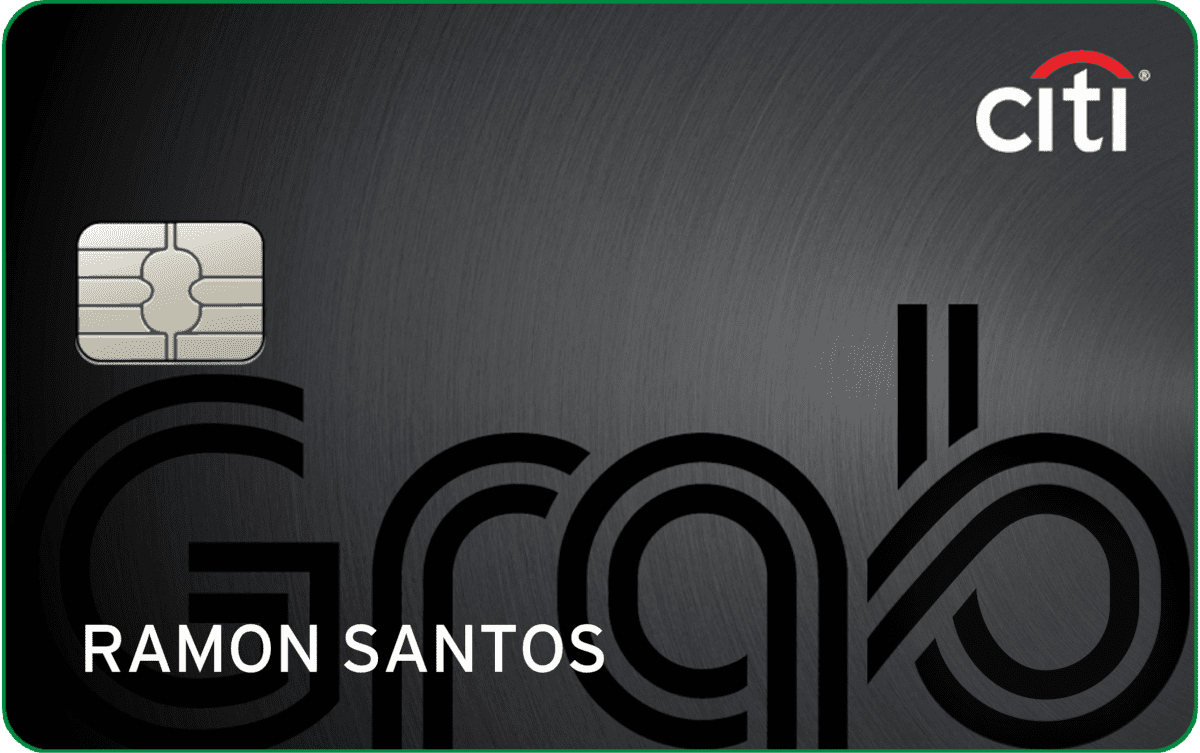 Amplify your Grab savings with this credit card!
Never miss out on Grab rewards and promos
Citi Grab Credit Card key features
As the name of the card suggests, you get a lot of Grab in-app perks simply by owning this credit card. In a nutshell here are the benefits of owning this credit card:
Receive ₱2,000 worth of Grab vouchers every year on your card anniversary when you spend ₱120,000 in 12 months.

50 Grab Reward points just for applying and getting approved for this credit card.

Instant upgrade to Grab Platinum Tier for six months within 15 business days from the time of card approval. 

Earn up to 10x Citi Points for every ₱30 spend. 

Access to Citi's privilege programs such as the Citi World Privileges, Citi Cash Advance, and PayLite Installment Plans. 

Cash advance 30% of the credit limit
Using your Citi Points
There are three ways for you to utilize Citi Points
Convert your Citi Points to GrabCar fare (10 Citi Points is equivalent to ₱1 off; with minimum redemption of 1,000 Citi Points)

Use your Citi Points to pay your credit card bill ( 10 Citi Points is equivalent to 1 Cash Credit; with a minimum redemption of 10,000 Citi Points. 

Redeem discount vouchers with Grab Rewards
Fees and interest rates
| | |
| --- | --- |
| Annual fee | ₱2,500 |
| Interest rate | 2% per month |
| Late payment | ₱1,500 |
| Cash advance fee | ₱200 |
| Overlimit fee | ₱1,500 |
| Foreign transaction fee | 3.525% |
| Card replacement | ₱400 |
Things we like about the Citi Grab Credit Card
Frequent Grab users will be in for a treat with this credit card. Grab has its own reward system in place for all of its users regardless of what credit card they use, but with this credit card, the rewards points get amplified and users can instantly earn more points by using Grab's services.  
For starters, owning the card will instantly bump you up to the Platinum Tier membership, which is the highest membership level you can get in Grab. Being in the higher tier of Grab's membership hierarchy enables you to earn 4x more points than the entry-level member. For every ₱100 spent on the app, you'll earn 10 Grab Rewards points instead of just 2.5 points as seen in the table below. 
More Rewards Points mean more redemption opportunities and more savings! Simply put, you can buy GrabCar or GrabFood vouchers more frequently than you could by just being a regular member.  On top of that, you can earn Citi Points with this card, which you could then convert to GrabPay Credits. You get layers of savings just by using this credit card and Grab. 
Not to mention, Citi Grab Credit Cardholders are entitled to annual ₱2,000 Grab Vouchers on their card anniversary provided that they meet the annual minimum required spend of ₱120,000.
If you're the type of person who lives off GrabFood deliveries, Grab Mart, and Grab Car, this card should be on top of your list to shave off those extra pesos. The little savings you get here and there with this card can add up in the long run and could definitely accrue enough savings to make a difference in your overall expenses. 
Things to consider before applying for this card
So much good has been said about this credit card but that doesn't mean it's automatically recommended for everyone.  As much as you're likely to benefit from the Citi Grab Credit Card's rewarding feature if you frequent Grab, the same thing cannot be said for those who don't. 
Yes, there are other perks you can get such as the Citi World Privileges, PayLite, and other generic Citi credit card promotions to help you shave a few pesos off your purchases, but you'll only get the bare minimum of this card's monetary benefits if you go down that route. Might as well get a different Citi credit card that matches with the spending category or habits you're inclined to. 
Remember, the key to maximizing a credit card's benefits and using it to your advantage is matching it with your lifestyle and spending habits. Find a credit card that will reward you for your spending patterns, and don't try to develop a spending pattern based on your credit card.
If you're not religiously attached to Grab's wide array of services, you might have to weigh the rewards vs the annual fee, which is quite hefty. If you think the rewards you'll earn from this card cannot offset the annual fee of ₱2,500, then sit this one out. 
How to qualify for this credit card?
To qualify for the Citi Grab Credit Card, you must meet the following requirements:
At least 21 years of age or older. 

An annual income of at least ₱180,000 if you have an existing credit card; ₱250,000 if you don't have an existing credit card. 

Filipinos/PR/ and Non-Filipinos can apply.
You must also provide the following documents:
For Filipinos and PR
For existing (principal) credit cardholders
O

nly 1 photo-bearing government-issued ID.
For non-credit cardholder
One

photo-bearing government-issued ID

Proof of income

Latest one-month payslip, or

Latest income tax return (BIR2316) with a BIR (Bureau of Internal Revenue) stamp or with a signature of your employer's authorized representative, or

Original and signed Certificate of Employment that includes your status as an employee, length of service, and compensation

Bank statement of your Payroll Account showing your one month salary
For Non-Filipinos
Foreign Government-issued passport and Alien Certificate of Registration issued by the Bureau of Immigration are acceptable IDs for resident foreigners and must be submitted with any of the following proofs of local residency:
Immigrant Certificate of Residency (ICR)

ACR-I-Card with Visa status "Permanent", otherwise, should be valid for more than one year.

Visa and Work Permit/Alien Employment Permit (AEP) with a validity of more than one year.

Special Resident Investors Visa (SRIV)e.

Special Resident Retirement Visa (SRRV)f.

If employed with the Top 2000 companies, employment contract or letter from company HR printed on company letterhead with name, position, and confirmation of term.
Citi Grab Credit Card's eligibility requirements are relatively low and are credit card newbie-friendly. Other credit cards within its league from Citibank alone usually come with more stringent requirements, especially for non-credit cardholders. 
Frequent Grab users aside, perhaps the Citi Grab Credit Card is also a viable option for credit card newbies who are just after a credit card to build a credit history on.
Leave your comment